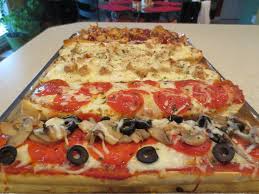 French Bread Pizza! So easy to make that you wonder why you don't make it more often! This is one treat that my kids always requested when we were looking for a quick meal. Budget wise, this version of pizza is way cheaper than the better pizza chains and tastes AMAZING compared to budget $5 pizza. Check out the recipe below and then comment back what your favorite toppings would be!

Preheat the oven to 375 Fahrenheit. On a baking sheet, line with foil and set aside. ** We have also used the oven racks directly by covering them with foil and putting the pizzas on them before sliding the racks back in.

Split the french bread lengthwise and then each half can be cut in half or quarter. Arrange them on the foil covered baking sheet or on the racks. Brush the edges with olive oil.

Spoon on marinara sauce on the individual bread pieces spreading the sauce until about a 1/4 inch away from each edge. Add as much sauce as you desire- it's your pizza!

Gently pour on the shredded mozzarella, gently patting it in place. Next add whatever toppings you prefer -as much as you like- again, its your pizza!!

Place in preheated oven and bake for about 10-15 minutes, checking to make sure cheese melts completely and the edges are golden crisp.

Carefully remove from oven- wait a few minutes to prevent the dreaded pizza burn on your tongue and enjoy!